The summer Michael Smolij turns sixteen, his father disappears. One by one other men also vanish from the blue-collar neighborhood outside Detroit where their fathers before them had lived, raised families, and, in a more promising era, worked. One man props open the door to his shoe store and leaves a note. "I'm going to the moon," it reads. "I took the cash."
Excerpt: Please Don't Come Back From The Moon
When I was sixteen, my father went to the moon. He was not the first man from Maple Rock to go there; he only followed the others on what seemed to be an inevitable trail. My uncle John was the first to leave.
The last time we saw John, we were in the parking lot of the Black Lantern, the bar on Warren Avenue where my father and his friends did their drinking. I was there with John's wife, my aunt Maria, and their son, Nick. It was the first day of June, just before midnight. I suppose I should remember if the moon was in the sky that night, but I honestly can't recall. The moon was not yet important.
The bar owner, a big Greek named Spiros, had simply called my aunt and said she should come and take John home. Nick and I had been hanging around watching a movie, and she made us come with her.
When we got there, a half circle of men stood in the parking lot, all of them wearing grease-stained work shirts or rumpled dress shirts and loose ties. In the middle of the circle was John, standing with his shirt off in a weary boxer's stance. He was soaked in sweat and his face seemed to be darkened with bruises or dirt. He had not been home for a few nights.
My father, too, was there. Across the crowded lot, I saw him under a streetlamp, still wearing his tie, two or three pens in his pocket. He looked green in the weak and forced light, as if he might be sick.
Across from John was an enormous man, red-haired and fat-faced. He was wearing coveralls and his skin was dark with grime. He had a crescent wrench in his hand.
My uncle reached into his pocket, and then I must have turned to look at my father again, because the next thing I knew the crowd was screaming and laughing and John had on a pair of brass knuckles. The red-haired guy was on the pavement. He had wet himself. People started to scatter.
My uncle, in the chaos, disappeared. By the time the police came, he and his truck were gone.
"Does anybody know who the assailant was?" an officer veiled at the crowd, which was jeering at him.
Just as my aunt was reaching out to the officer, about to wave her hand and say something-I don't know what-a woman wearing a red halter top and black cutoffs came forward. She was barefoot, and some men whistled at her as she walked in front of the mob. She turned to the crowd and flipped them off, then turned back to the officer and said, "I know him. He's my boyfriend."
My aunt Maria walked away. We followed, because we had been waiting for a way to retreat without cowardice. We were too young to join in the fight but too old to flee from it.
FOR A FEW WEEKS that summer, Nick and I positioned ourselves around the city and waited to run into my uncle. We went to the Black Lantern for lunch and sat for three hours, picking at a plate of nachos, looking at the face of every man who came into the bar. We sat outside the mall and drank frozen orange drinks most of the evening, watching girls and waiting for John to walk by eating an ice-cream cone, a shiner darkening each eve. We rode our bikes around the parking lots of motels, strip bars, and movie theaters, looking for his rusted
Ford truck, the one with "Kozak's Sun & Snow: Quality Pool Maintenance, Lawn Care, and Snow Removal" hand lettered on each door.
Uncle John didn't come home. The speculation was that he'd gone off to hide somewhere, maybe Canada, perhaps because he thought be had killed the fat red-haired man in the parking lot. But he hadn't. That man simply got a row of stitches and went on his way.
It was a few weeks later that Walker Van Dyke's father left for a fishing trip, muttering something about killing the President, and didn't come back. J.J.
Dempsey's dad, who had worked at the night-light factory, tried to rob the Ukrainian Credit Union the week after the factory went down. He left town directly afterward. Michael Pappas' father, Gus, owner of the recently bankrupted Gus's Coney Island Restaurant, left too.
Our neighbor and my father's best friend, a pipe fitter named Norm Nelson, whose son Jimmy was about my age, also vanished. His Corvette, which his wife had been trying to get him to sell since he'd been laid off, was found wrapped around a tree in Hines Park. Norm was nowhere to be found. There was no blood in the car-it was as if he'd vaporized out of the driver's seat and floated away just as the car wrecked. My father went over and showed Mrs. Nelson how to start the lawn mower, change a fuse, set the thermostat. I went with him, and Mrs. Nelson kept looking at me and laughing, saying, "Isn't it silly, Michael, that a grown woman like me doesn't know how to do a goddamn thing?"
By August, as Detroit stewed in a steamy laver of ash and grit so toxic that breathing made you feel stoned or delirious, many of my friends' fathers had disappeared, and as we played baseball or hung out at the bike racks near Wonderland Mall, all of a sudden, some kid would blurt out, "My dad's gone." Some men left in the traditional fashion, slipping out at night, a note left behind. Sonya Stecko, my sometime girlfriend, said her father wrote a rambling sixteen-page letter before he left, in which he affirmed that he loved her, her mother, and her siblings, and in which he offered advice about marriage, money, and other subjects. It was as if he planned to miss the next thirty years of her life.
Some men left in broad daylight, giving goodbye kisses to their children in the driveway as their wives watched from behind the curtains, furious and brokenhearted. We watched Sharon Mills give her father a kiss goodbye as her mother threw pots and pans at his truck.
Peter Stolowitz's father owned Sol's Shoes on Six Mile Road. One day he left the store unattended, the front door propped wide open with a rock. Across the front windows he had lettered FREE SHOES in huge strokes of brown latex paint. He'd taken all the cash from the register and the safe and left a note: "I'm going to the moon," it said. "I took the cash."
Everyone in town went and helped themselves to a new pair of sneakers. We opened the boxes in the stockroom like it was Christmas, tossing lids aside, tearing out white tissue paper. Some people left their old shoes behind: a formidable pile of castaway footwear grew by the fire exit. Old men took home shiny wingtips, young women took high-heeled sandals. Nick and I helped ourselves to some Converse high-tops.
The wives drink, brawl, and sleep around, gradually settling down to make new lives and shaking off the belief in an American dream that, like their husbands, has proven to be a thing of the past. Unable to leave the neighborhood their fathers abandoned, Michael and his friends stumble through their twenties until the restlessness of the fathers blooms in them, threatening to carry them away.
Hailed as "a triumph" by O, The Oprah Magazine, this haunting, unforgettable debut novel is for anyone who has ever been left longing.
Movie Adaptation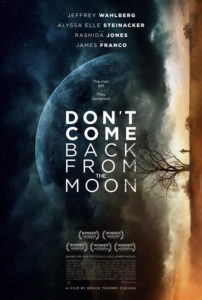 Bakopoulos' beloved first novel has been turned into a "poignant and visually striking" movie starring James Franco and Rashida Jones.
Mickey, a wayward teenager living on the fringe of the California Desert, is filled with angst. His father has disappeared. One by one other men also vanish from his decaying working class town. One man props open the door to his bar and leaves a note. "I'm going to the moon," it reads. "I took the cash."
Mickey tries to escape the bleakness of life by causing trouble with his friends but his rage becomes too much to contain. His rash choices leave him careening towards damaging consequences. Would a budding love relationship be enough to save him?
The lure of just giving up and running away is palpable. Mickey, like his father, face the decision to resist or to heed the call of "heading to the moon."
Praise For The Book
"Gorgeous, painful, and exquisitely written, Please Don't Come Back From the Moon is about the impossible things we believe because the truth may simply be too hard."
The Boston Globe
"By deftly welding magic realism with social satire, Bakopoulos captures the dark side of the working-class dream."
The New York Times Book Review
"Bakapoulos' endearing first novel . . . is a tale that, despite the boys' empty longing, is full of hope."
People
" 'When I was sixteen, my father went to the moon.' Thus begins this debut novel about the mysterious disappearance of the men from a working-class suburb of Detroit. … Magic serves more as an emotional undercurrent than a mystery in this odd novel, part fable and part gritty realist chronicle. As Bakopoulos writes in an author's note, the book is a kind of elegy for his father's generation of downtrodden working-class men, but their disappointments are tempered by the modest hopes and ambitions of their sons in this gentle and moving tale."
Publisher's Weekly
"The term 'heartbreaking' appears frequently in reviews of this debut novel, whose title is derived from a Charles Mingus jazz composition. With its undercurrent of magic and social satire, Michael's coming-of-age story struck a strong chord with most critics. The main character is, at times, annoyingly indecisive, but the 12 years of his life presented in this compelling story ring true. Please Don't Come Back From the Moon should be read as a tribute to the past generation of working-class American men."
Bookmarks Magazine
"During the summer of 1991, when times were tough, the men of blue-collar Maple Rock outside Detroit disappeared one by one, with one of them leaving a note saying he was going to the moon. The women rage and weep, then start new lives–finding jobs, remarrying, moving to nicer suburbs. But the fatherless sons, among them 16-year-old Mikey Smolij, flounder for years. After an initial period of freedom and licentiousness, during which they take over the local tavern and serve as studs for older women, these teenage boys live with doubt about whether whatever caused their fathers' disappearances might get them too. Twelve years later, with Mikey's young adulthood marked by some dwindling relationships and depression, there is a mystical reunion, but how much happiness is possible in the face of a void that is never filled?"
Booklist
Praise For The Film
"The movie's emotional potency is undeniable, its crescendo of wounded feelings and shimmering photography leaving unexpected imprints on the eyes and heart."
Jeannette Catsoulis, NY Times
"From its opening moments through its pitch-perfect closing notes, 'Don't Come Back from the Moon' is a stunning and stark and beautiful thing to behold. The direction and the screenplay from Bruce Thierry Cheung are both first-rate"
Richard Roeper, Chicago Sun-Times
"Cheung's dreamlike drama is fascinating and affecting. The performances, running the gamut from Wahlberg's implosive Mickey to Steinacker's feisty but needy Sonya, are pitch-perfect across the board."
Joe Leydon, Variety
"Poignant and visually striking. Cheung's unaffected compassion for his characters grows more powerful as it proceeds. The cinematography, with its thick shadows and saturated colors, is fully attuned to the wild beauty of the edge-of-the-world setting. "
Sheri Linden, Hollywood Reporter
Film Awards
NEW YORK TIMES CRITICS' PICK
SPECIAL MENTION FOR DIRECTING, LOS ANGELES FILM FESTIVAL
BEST PERFORMANCE IN A FEATURE FILM – ALYSSA ELLE STEINACKER YOUNG ARTIST AWARDS, 2018
JAMES LYON AWARD FOR BEST EDITING, WOODSTOCK FILM FESTIVAL
SPECIAL MENTION FOR BEST FEATURE. WOODSTOCK FILM FESTIVAL
BEST FEATURE FILM, SOUTHAMPTON INTERNATIONAL FILM FESTIVAL
BEST CINEMATOGRAPHY, SOUTHAMPTON INTERNATIONAL FILM FESTIVAL